favorite meal: Atlantic smoked salmon with dill and lemon with a side of jasmine rice and spinach.
musicians: The Nields, Guster, Dispatch, Dar Williams, Lucy Kaplansky, the Indigo Girls, Bruce Springsteen, Ani DiFranco, Steeleye Span, Leslie Fish
television: The West Wing, Babylon 5, Farscape, Bravo Channel
movies: Casablanca, Amelie, Full Metal Jacket, Alien, What's Eating Gilbert Grape, Chicken Run, Dancer In The Dark, Shrek, Unbreakable, Dr. Strangelove, LOTR: Fellowship, The Princess Bride
authors: Gabriel Garcia Marquez, Flannery O'Connor, William Faulkner, Brian Jacques, Connie Willis, P.G. Wodehouse, Alfred Bester, Neil Gaiman, Ursula K. LeGuin, Harlan Ellison, Jean Auel, Diana Gabaldon, Thomas Pynchon, Toni Morrison, Mary Shelley.
theme songs: "Who Needs Sleep" by the Barenaked Ladies, Dar Williams' "Iowa," David Grey's "Babylon," Cake's "Short Skirt/Long Jacket," and "500 Miles" by the Proclaimers.
Who is the author of this site?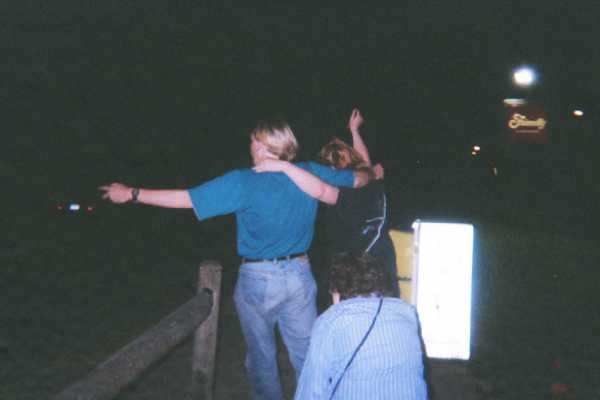 author's in this picture.
what does she do for a living?
she smashes words together for fun and profit. for a further definition, go here.
ha. don't you know that writers never make any money at their chosen profession?
It really depends on what kind of writing you do. Although the starving, misunderstood literary genius still lurks within me, I feel that I am truly more of a... professional communicator, a technical writer, if you will.
come on. admit it.
proud to. I like copywriting.
I heard somewhere you played an instrument.
Sure do. Bad acoustic guitar, slightly better pennywhistle, and pretty damn good jazz and classical violin. I do all of that with my folk band, Ania.
what's in your kitchen?
brown rice, chicken, edy's girl scout thin mint ice cream, brown rice, vegetable soup, macaroni and cheese, lettuce, brussels sprouts, cucumber, bananas, peaches, broccoli, ginger snaps, skim milk, apple juice, 99% fat free ground beef.
what kind of car does she drive?
Well, she did drive the Whitestar for a while, but she had to switch to the Starfury. This a picture of the Whitestar: